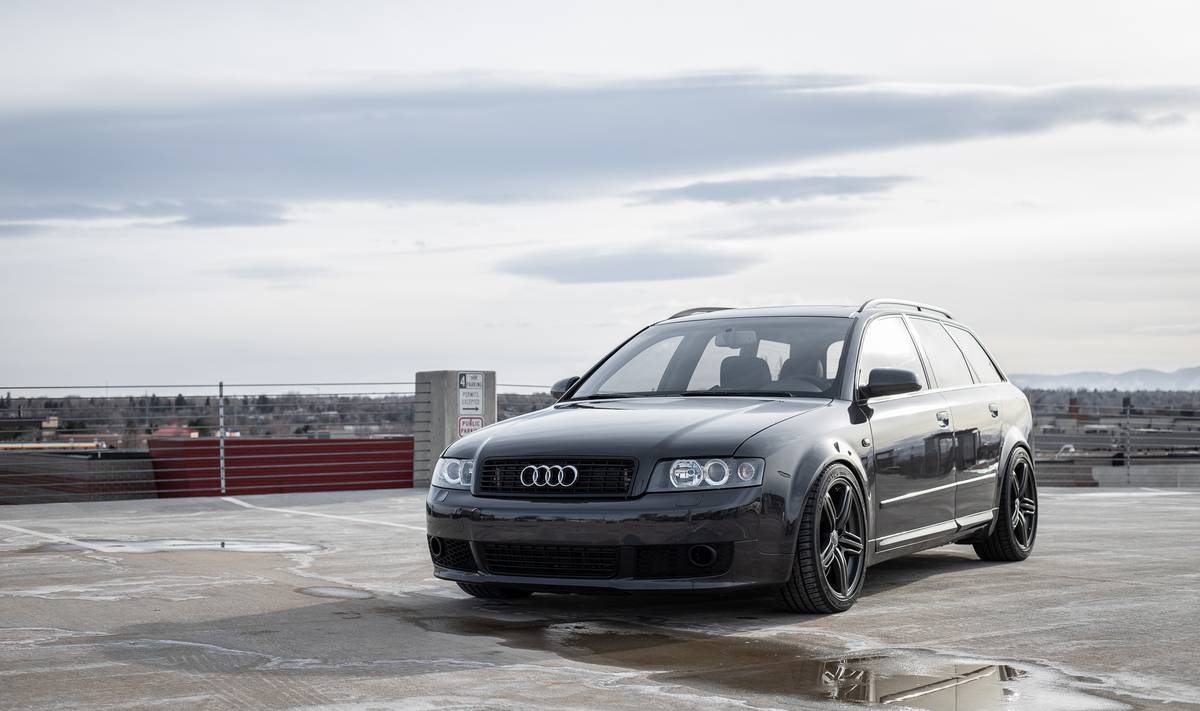 While it was certainly impressive to see the unique Aquamarine S4 Avant over the weekend, for nearly everyone it was a letdown. Many of the faults would be excusable were it not for the outrageous asking price – getting on for four times the market value of a decent "normal" S4 Avant. Of course, one of the great things traditionally about Audis is that the chassis flexibility means parts from a myriad of other models work across platforms. So, unhappy with the available options out there, why not build your own super Avant?
That's exactly what folks at Black Canyon Performance did, taking an already desirable B6 A4 Avant Ultrasport 6-speed and turning the wick up substantially. The modifications range from installation of a B5-generation 2.7T V6 to a factory RS4 interior and a special Porsche color – 7A1 Gray Black borrowed from the 997 GT3 RS, but don't end there. Welcome to the Unicorn Killer….or was it Killer Unicorn?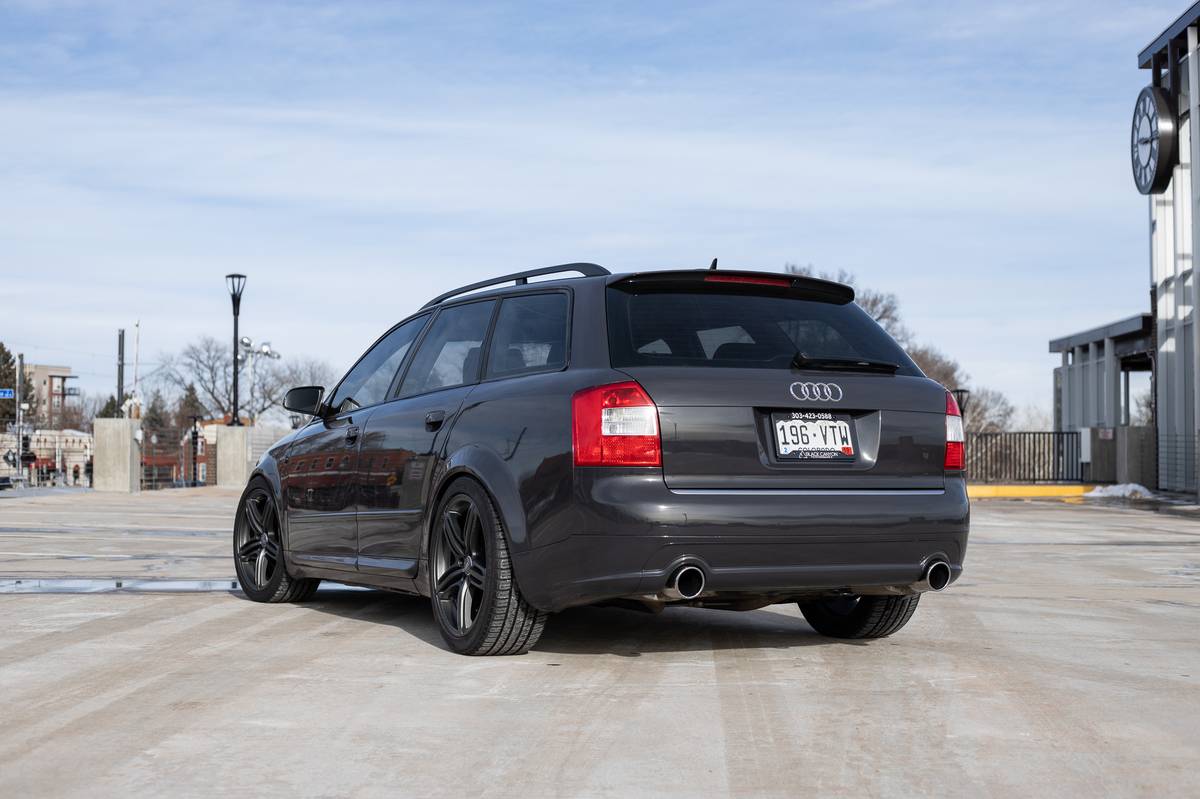 Year: 2005
Model: A4 Avant Ultrasport
VIN: N/A
Engine: 2.7 liter twin-turbocharged V6
Transmission: 6-speed manual
Mileage: 151,0000 mi
Price: $16,000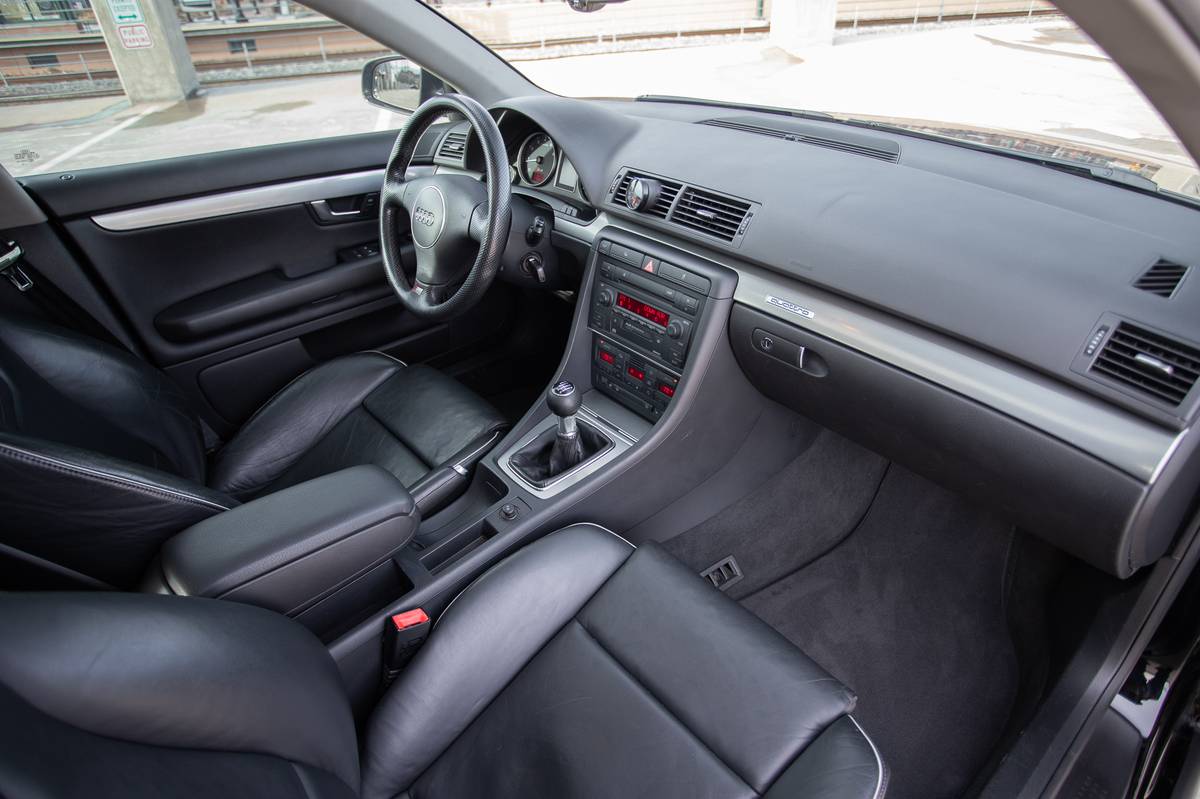 For Sale:
2005 Audi A4 Ultrasport Avant
1.8T to 2.7T Engine Swap
6 Speed Manual
Porsche Grey Black
Bose Audio
Heated Front Seats
151,xxx miles

It is with a heavy heart that I post this car that I have spent countless hours and dollars building. I am purchasing a house, and unfortunately I am forced to sell. It started life as a 2005 Audi A4 Avant Ultrasport 1.8T 6mt. Shortly after aquisition, I transplanted the engine and transmission from my prior 2001.5 Audi S4 Avant which was totaled when a driver pulled in front of me. The intention of this car was to have a high horsepower B6 Avant that would be reliable and enjoyable to drive on long road trips or up the mountains for summer or winter activities. And that's just what I used the car for until it was very recently painted. I have driven this car across the country 5 times since the engine was swapped, and up the mountains for countless ski and mountain biking trips. Driven daily as well, this car has proved as reliable as if this car came from the factory with this drivetrain. Originally painted black, the car was recently repainted Porsche Grey Black. The door jambs, roof and engine bay were left black, as I didn't feel it was necessary to paint them given the black interior and dark exterior.

Engine:
Audi S4 2001.5 2.7T (132,xxx Miles)
Borg Warner K04 Turbos (40K)
72lb Bosch EV14 Injectors
91/E85 Switchable Tune
AWE Intercoolers
3" Downpipes
Fast Intentions 2.5" B6 S4 Exhaust
Bosch 044 Motorsports Fuel Pump in 034 Surge Tank (For E85 Support)
Stern Street Engine Mounts
034 Street Transmission Mounts
034 Snub Mount With Bracket
Silicone Thottle Body Boot

Transmission/Clutch:
Fully Rebuilt 01E Transmission (15k)
JHM Carbon Synchros
Updated 1-2 Shift Collar
JHM Short Shifter
Southbend Stage 3 Endurance Clutch and Steel Light Weight Flyhweel.

Suspension/Braking:
Bilstein PSS9 Height/Dampening Adjustable Coil Overs
034 Rear Sway Bar
Alcon 355mm Big Brake Kit

Lighting:
Genuine Audi Ecode BiXenon Headlights
Smoked Side Markers
Fog Light Delete for Intercooler Air Flow
Auto/Coming Home Lighting Package

Exterior:
Porsche Grey Black Paint (Brand New)
Clear Bra Including Headlights (Brand New)
Audi A8 Rear Rings (Brand New)
Window Tint
Side Mirror Euro Glass
Hartman Audi S4 Peeler Replicas – 18×8
15mm Rear Wheel Spacers
Michelin Pilot Sport Tires

Interior:
RS4 Front Seats
RS4 Pedals and Dead Pedal
Ultrasport Steering Wheel and Shift Knob
S4 Gauge Cluster w/ Color Screen
Concepts in Motion Boost Gauge
Recovered Headliner

This car is in excellent mechanical and physical condition. The car needs nothing, though the front rotor rings could use replacing sooner than later. As owned by an Audi mechanic, the car and drivetrain have been meticulously maintained. The timing belt has been replaced within the last 5,000 miles, and during the engine transplant all oil related gaskets and seals were replaced prior to installing into the car. The drivetrain is extremely dry. All electronics work perfectly, down to the cruise control. There are no warning lights on the dash, and no faults in the engine or other modules. The instrument cluster does read 90,xxx miles however photos were taken of the old and new clusters when they were swapped, to record the mileage. The exterior is in excellent condition – though not perfect. There is a bit of curb rash on a couple of the wheels, and the paint on the roof is the original black paint which is in good condition but not perfect. The paint is of high quality in workmanship and material. The interior is excellent. The headliner had started sagging so I removed and had the fabric professionally replaced when the car was painted. For the painting project, I personally disassembled body parts for paint and then personally reinstalled. Door handles, door locks, side skirts, trim, grills, bumpers, roof rails, mirrors, lights were all removed for paint. The under-window trim on the doors is new, as well as the windshield trim and cowel. The windshield is also new, and is factory Saint Gobain glass, and the wipers are new genuine Audi. Please feel free to ask quesions – I am sure I am leaving out a couple items.

CAR IS SOLD WITH PASSING EMISSIONS REPORT

I am not interested in trades.
I do not need help selling my car.
And you cannot joy ride or waste my time. 🙂

Thanks for looking!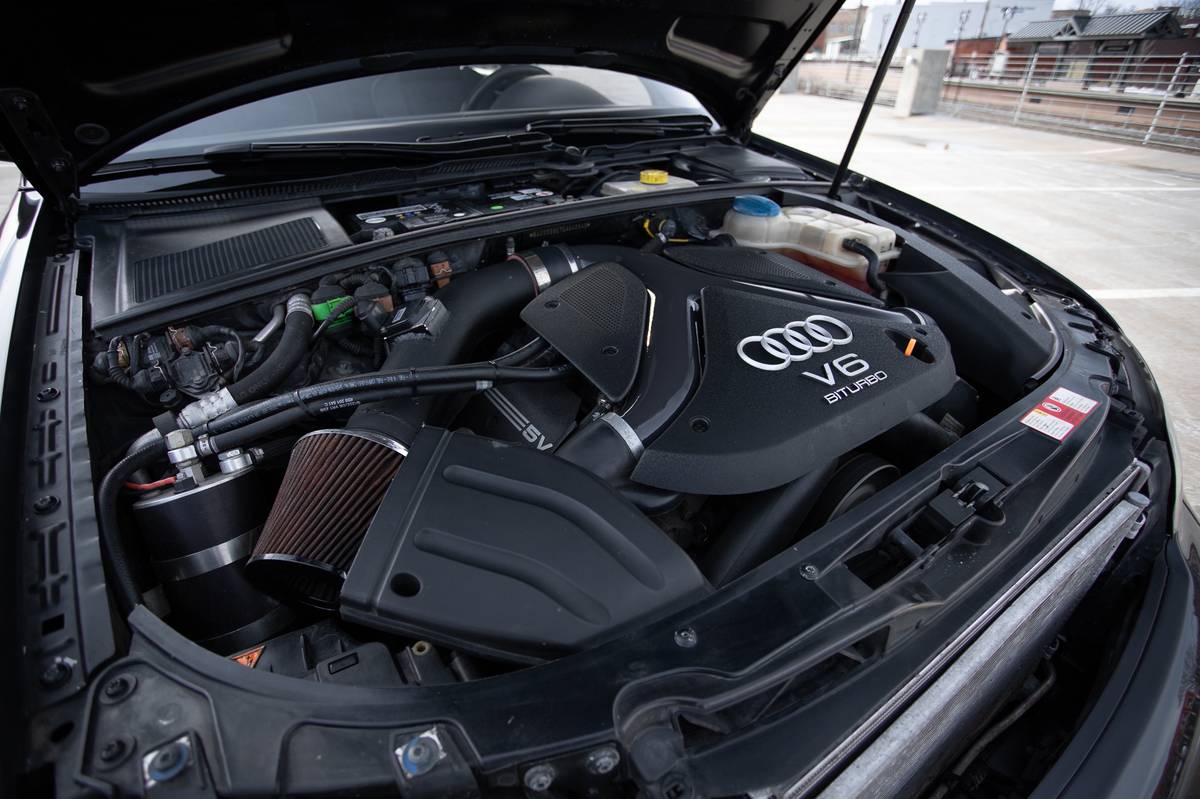 This car seems very well built and presented. The fit and finish of everything looks near-factory and so much has been replaced it's nearly impossible to spot even a fraction of the 150,000 miles on the chassis. The RS4 interior is great and menacing, in keeping with the sinister exterior. The Ultrasport package is probably the best looking of the B6s, so that's a win there too. High-quality, big-dollar Bilstein PSS9 suspension and Alcon brakes help keep the substantial power increase in check. I personally would opt for different wheels, but the "Peelers" are in keeping with the Audi DNA transplants. Power isn't listed, but it's safe to say it should be the equal of the B6 S4 and nearly double what a standard USP came with.
I've previously been pretty critical of pricing on USPs, and I think rightly so. While they're neat cars, they're not as special as their asking prices often indicate. But here, the price seems very much justified for the amount of work and the presentation of this turn-key, completely unique package. What a cool wagon!
-Carter