For today's Wednesday Wheels I have some more affordable options and some of my favorite aftermarket wheels. I've been neglecting Brabus for Mercedes-Benz, but they make some great looking wheels that are just subtle enough to look slightly different than stock but more aggressive. It's an understated look that can really dress the car up. I love the BBS Mahle wheels in the right offset on early BMWs, even if they are only 14″ wheels. Try getting good tires for those today! The Speedline MIM wheels are some of my favorites and rare to see, and I just love how those Empi wheels look on early VWs. Another rare set is the Fittipaldi/OZ 3-piece wheels, though they may be better suited to a track car. All of these are cool to see for one reason or another – what's your favorite?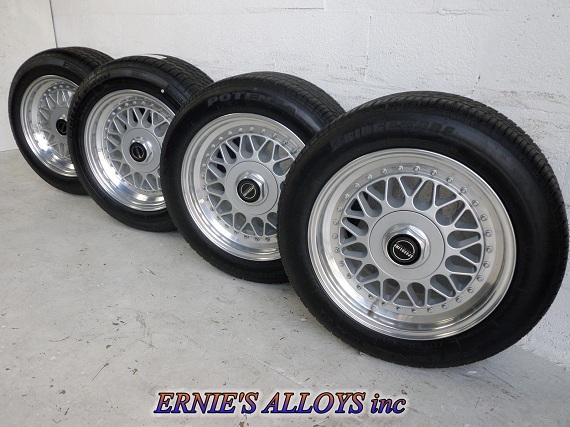 Price: $2,348.13 Buy It Now
Mercedes Benz SPEEDLINE MIM SPORT LINE 16″ wheels with TIRES. Set of four (4)

30 RIVETS MESH MACH DISH SILVER

Wheel Sizes are 16″ x 7.5 ET16 with 205-55ZR16 89T BRIDGESTONE 90% Tread left FRONT

16″x 8.5 ET21 with 225-50ZR16 95W PIRELLI 90% tread left REAR

BOLT PATTERN 5 X 112

WHEELS HAVE NOT MARKS .

CENTER CAPS , 20 LUGBOLTS and TOOL ARE INCLUDED

for more info please Call Ernie's Alloys INC 305-687-0028

Stock # 36752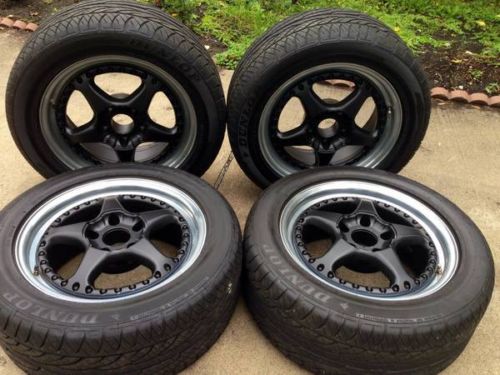 Price: $735 Buy It Now
these were $700/wheel when new, so you are getting one helluva deal

no, i do not have centercaps, most people prefer these without them as they are not the best looking caps.

tires are 245/50/17 Dunlop SP Sport and have more than half of tread left on them at least.

wheels are 5×120 or 5×4.75, 17×9.5 ET37 offset

all wheels are straight and clean, they are bolted together so you can unbolt the centers and have them painted/powdercoated any color you wish. right now they are plastidipped satin black, but dip can be peeled off like window film if thats not your thing. underneath they are royal blue

one wheel has small section of clearcoat that came off on the lip, its just the clearcoat, nothing else, only one wheel, cab be recleared or stripped and polished, but as you can see its not even noticeable at all.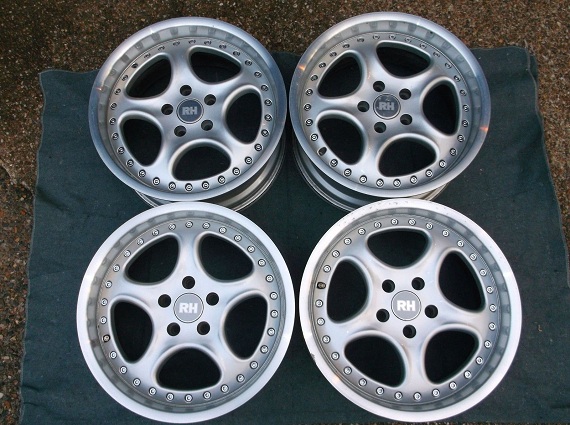 Price: $1,299 Buy It Now
VERY RARE, VERY EXPENSIVE, VERY HARD TO FIND RH WHEELS, MADE IN GERMANY, 17 X 8J SIZE. 5 X 112 BOLT PATTERN, YOU CAN SEE A PIC I POSTED OF THE BACK SPACE. SCRIPT INSIDE OF WHEELS (SEE PICS) SPECIFIES:

LAG

ET32

8J X 17 H2

LK112G

A6807532

THE GENTLEMAN I BOUGHT THEM FROM PURCHASED THEM IN ABOUT 2008 WHEN HE WAS STATIONED IN THE US MILITARY IN GERMANY, RUNNING THEM ON AN AUDI A6 TURBO WHICH HE STATED HE COMMUTED IN ON THE AUTOBAHN AT SPEEDS OF 140-150 MPH. WHEN HE RETURNED HOME HE KEPT THE WHEELS BEFORE SELLING THE AUDI. IF YOU GO TO THE RH WEBSITE, YOU'LL SEE THESE WHEELS COST $699.00, APIECE! AND YOU HAVE TO PREPAY, BEFORE THE COMPANY WILL BUILD THEM! I'VE GOT THIS 4 SET WITH CAPS PRICED AT LESS THAN HALF NEW COST. THESE ARE 'CUPRAD STYLE', AT LEAST THEY LOOK LIKE THAT MODEL ON THE WEBSITE, I'M NOT WARRANTING THAT THIS MODEL IS ACTUALLY A 'CUPRAD' MODEL AS THEY COULD HAVE BEEN CALLED SOMETHING DIFFERENT WHEN SOLD 6 YEARS AGO. THESE ARE NOT, REMANUFACTURED WHEELS THAT HAVE BOUNCED OFF CURBS AT 120 KPH. THERE ARE SOME MINOR NICKS AND SCRATCHES ON THE WHEELS AND CAPS, THERE IS NO MAJOR DAMAGE OR DENTS. THE LAST WHEEL CLOSE UP PIC (THE ONE AT BOTTOM RIGHT) HAS A BIT MORE COSMETIC DAMAGE, ABOUT A 1″ SECTION ON TOP THAT HAS BEEN ABRADED OFF AND A FEW MORE LIGHT POCKMARKS ON WHEEL SURFACE. THE DAMAGED AREA DOES NOT EXTEND BEYOND THE SURFACE TO ANY SUBSTANTIAL DEGREE OR THE LIP. CLOSE UPS HAVE BEEN PROVIDED OF EACH WHEEL, SO STUDY THEM CAREFULLY PRIOR TO BID.

THESE WHEELS WILL OBVIOUSLY FIT OTHER MAKES AND MODELS. PLEASE DO NOT, ASK ME, 'WILL THESE WHEELS FIT THIS VEHICLE', I WON'T EVEN ANSWER YOU. I HAVE PROVIDED THE WHEEL NUMBERS AND STATED WHAT THEY CAME OFF. IF YOU ARE NOT SURE THEY WILL FIT YOUR APPLICATION, PASS THEM BY, THERE ARE NO RETURNS OR REFUNDS. I DO WARRANTY THEY ARE A 8J X 17 WHEEL SIZE WITH A 5 X 112 BOLT PATTERN AND CAME OFF AN AUDI A6 TURBO. DO YOUR OWN RESEARCH IF YOU HAVE QUESTION

SOLD AS IS, NO RETURNS, NO INTERNATIONAL, FIXED SHIPPING OF $100.00 IN LOWER 48 ONLY, WHICH WILL INCLUDE INSURANCE, PAYMENT WITHIN 4 DAYS.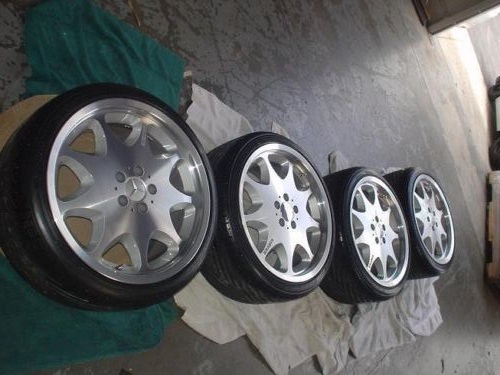 Price: $3,400 Buy It Now
Here is a chance to purchase a complete set of New Old Stock 4 Brabus Monoblock III wheels 19×9.5 et35 This auction is for the wheels only. The tires have been dismounted using a Corghi tire machine and discarded due to being 12+ years old. These wheels were used on the W140 chassis, "machine" finished facia with the windows painted silver. If the Buy it Now Option is used I will include shipping to the lower 48 Text me at 949-370-95 zero zero with any questions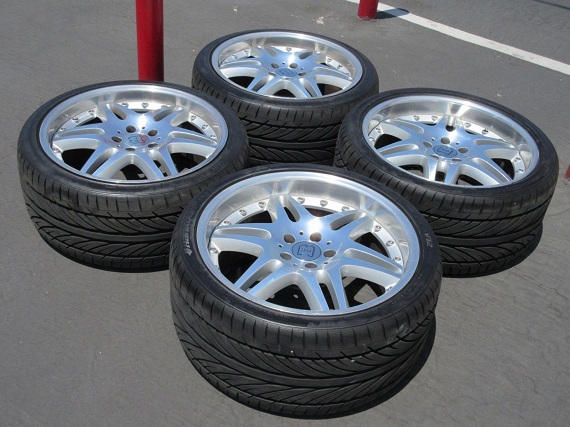 Price: No Reserve Auction
I have a nice set of authentic 19" BRABUS Monoblock VI Mercedes wheels with very good Hankook Ventus V12 Evo tires (date code 2012) for sale. These high-end 2-piece wheels were removed from a SL Mercedes and will fit the CLS and E Class Mercedes. As you may know Brabus utilizes mounting plates depending upon your specific application. This application here was a 2009 SL but these wheels will easily fit the E Class cars as well you would just need to get lugs and possibly different Brabus plates or simply remove the plates. Please bid with confidence as eBay has qualified me as an "ID verified" eBay member. If purchased new from BRABUS, these wheels and tires would easily exceed $6,500. Keep in mind these are authentic German-made BRABUS wheels and not Brabus "style" wheels which simply indicate a replica wheel. These wheels here are genuine BRABUS.

Front Wheels: 9.5JX19, offset 45mm with 20mm brabus plate and lugs. tire (255/35ZR19)

Rear Wheels: 10JX19, offset 35mm, with 10mm brabus plate and lugs. tire (285/30ZR19)

The wheels have been kept in good condition and do not have curb rash on them. There are some small marks and scrapes here and there but no curb rash. The lips are nice but they could use a nice polish. They are straight and balanced as well. Again, the wheels are in good condition and I have used the "supersize" picture option to demonstrate the quality and finish so please take advantage of it. These wheels are wrapped with Hankook Ventus V12 Evo tires (date code 2012) tires and have a ton of tread remaining (at least 90%) see front and then rear tread pics respectively. Brabus center caps are included. I receive a substantial fedex shipping discount which I pass onto you so shipping will be between $35 -$45 per wheel within the U.S. and if outside the U.S. please contact me. If you need the wheels sooner don't hesitate to contact me. If you have any questions don't hesitate to contact me. If you want to see them in Newport Beach, CA please contact me. Free local pickup.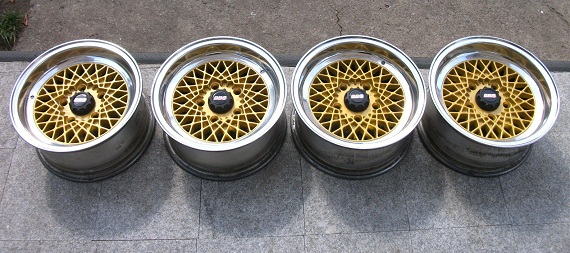 Price: $1,499 Buy It Now
For sale

a set of 4 genuine

14 inch/zoll

BBS MAHLE

CROSS SPOKE

They are OEM from BMW!!!!

7x14H2 ET 11

5×120

BMW PART NUMBER: 36.11-2 204 476

The wheels are hard to find in this condition, but don´t forget the wheels are used, look the pics.

Ask me for more infos.

Shipping to USA $ 395. For shipping to other countries please contact me for the price.

Payment with PAYPAL only.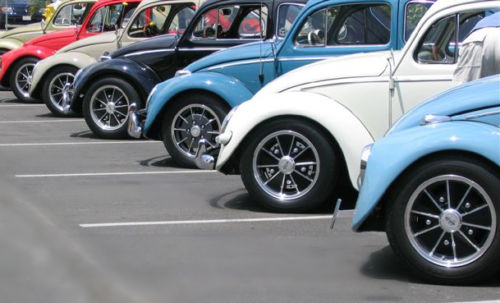 Price: $85 Buy It Now (Each)
Matte black BRM Empi alloy wheels for VW Volkswagen 5 on 205 Bug Beetle Karmann Ghia Bus Type 3

You are bidding on 1 Brm alloy wheel. This auction is for matte black but I also carry gloss black. BRM alloy wheels for VW Volkswagen were first produced for Empi in the late 60's. Since its primal 60's version that was made of a magnesium alloy (they would never stayed polished and were prone to cracking). The new modern Empi revised version is a much stronger 1 piece alloy wheel design with the original press on cap. This wheel is 5 on 205 wide VW lug pattern. They are only available in 15 inch x 5 inch wide with 3 7/16 inch back spacing.
These wheels require special lug nuts which are not included (an additional $10 per wheel). The wheel will come with a chrome center cap and valve stem. If you have any questions or need a price about any Brm's, Sprintstars, Porsche Alloy Fuchs, 5 or 8 spokes, 2 liters or any VW Volkswagen or buggy parts, call (714) 815-9661 or email me. I will make you a package deal.
-Carter